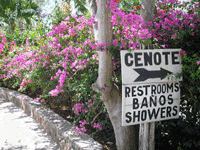 So you know you're in the mood to take a vacation…yes, some place warm. Can you see yourself sitting on the cool white sand beaches of the Mayan Riviera, gazing out over the warm turquoise waters? Have you heard all about your neighbor's vacation, poured over travel magazines, surfed the internet and know where you want to go - just not sure the best way to get there? You've come to the right place!
Ever since my first trip to Mexico in 1984, I've been in love with the tropics. With each vacation I would learn more about the places to stay and the places to avoid. Gradually friends and family would seek my advice before planning their own getaways. In 1991, I became certified in Travel and Tourism. In 2002, I became affiliated with a host agency, Travel, Ports & Voyages. I'm a fully insured agent and consultant who loves to assist people in planning their vacations because, simply put, I have a passion for warm-weather get aways. I'm in the travel business because I love traveling and, more importantly, I love using my knowledge to help others plan a memorable trip. As someone who has traveled extensively throughout Mexico and Caribbean, I can assist you in planning and booking the ideal tropical vacation at a competitive price. Contact me today to discuss your ideas or, if you already know what you're looking for, request a quote.
I'm looking forward to putting my experience to work for you.


Lone Palm Travel