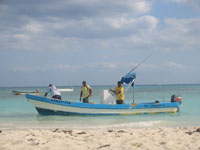 I am a Riviera Maya destination specialist, but I also book other areas of Mexico as well as the Caribbean. I do not handle destinations such as Europe or Disney World, I am a firm believer of sell what you know best.
Have you heard of a great resort but want some first-hand advice on whether to stay there? I'll give you my personalized recommendations based on the vacation you desire.
I have visited or stayed at many hotels in the Riviera Maya, which makes matching you with the perfect location my specialty.
Allow Lone Palm Travel to provide you with the type of personalized service you just won't get going through an internet travel site or a huge travel agency. I will book your vacation with reputable tour operators who have been in business for decades, so you can be certain that your reservations are secure. While I do not add any service fees to the prices I will quote you (as is common practice in the travel industry), I can not further discount my already competitive pricing. Rest assured I will take full responsibility for your reservation from start to finish, and I am available to you 24/7 should the need arise.